Detective: Again!
In Detective: Again! you play as a detective who is tasked with finding a missing scientist. It quickly becomes evident, that this task might have more importance than expected. Before he went missing, he was working on a time machine, that now is rewinding time every day and you are the only person keeping your memory.
That means it's on you to use your deductive skills to find and deactivate the time machine to save the universe.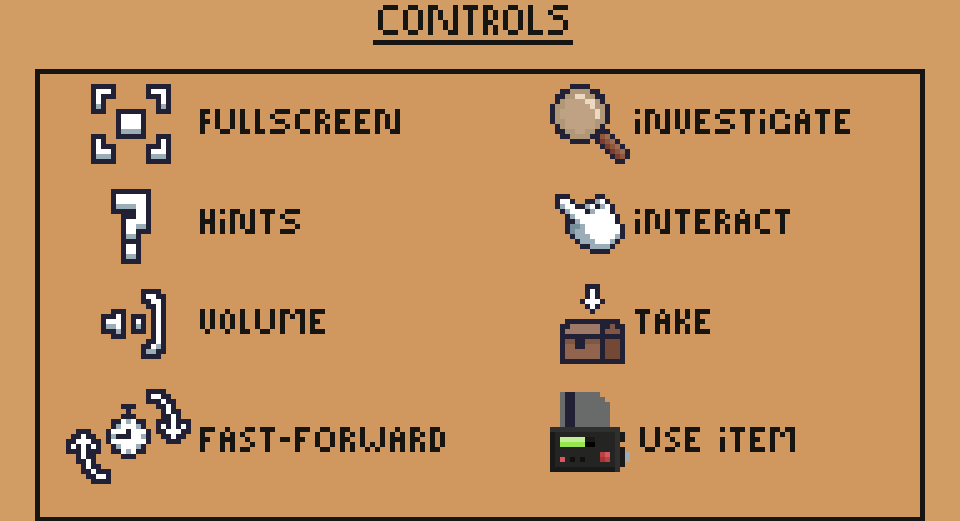 Known Issues
Fullscreen breaks the UI in some browsers!

Fix: Use Firefox or reload the page and don't use fullscreen.

Long load time with blurred screen.

Fix: Please just give it a minute or so.
If the web-version does not work, please try using Firefox, since this is what I used for testing. Alternatively, you can download the windows version.
Made for Brackeys Jam 2020.2
All assets were made in a timeframe of 7 days, including code, art, music, and more. The only exception is the "Minimal5x7"-Font by kheftel under CC0.

Download
Click download now to get access to the following files:
Detective Again! - Win.zip
21 MB
Comments
Log in with itch.io to leave a comment.
Awesome game!!! Really hope you make a sequel.
it is possible to disable the time machine on the with out the day repeating. also i am looking forward to the next part where you actually try to find the scientist
Why not? Could you describe the issue, so I can figure out what's wrong?
i mean that when i click run game the progress bar won't appear and when i downloaded it it was laggy maybe because this laptop is quite old
Warning: DO NOT CLICK THE TIME MACHINE TWICE. THE GAME STOPS WORKING, AND YOU CAN ONLY CLICK ON THE UI BUTTONS, I REPEAT DO NOT PRESS THE TIME MACHINE TWICE.
Ohh, sorry about that. I did not know about this bug. If I ever get around to finish the update I have started working on after the jam (development on it slowed down, to put it mildly), I'll fix it.
I did it before I looked at the comments.
It was nice, but so short and easy that I did it all on the first loop without even trying to be fast. When you need to find something, it's always on the same screen as the location you need it for. If you spread them out more, you would actually need multiple loops to get everything.

Glad you like it. I agree that it is quite short. I would have loved to add more cases and more puzzles/riddles to solve, but I ran out of time due because of the jam deadline.
I might add more once the rating is over. Thanks for the feedback.